From reconstruction to growth
1946
Obtained permission to lease the Iwahana plant and began production of black powder and fuses.
1948
Started production of DDT.
Started manufacture of penicillin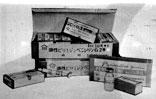 Lipophilic pyrimidine penicillin
1947
The headquarters moved to the Nippon Kayaku Bldg., 15-5, Ichiban-cho, Chiyodaku, Tokyo.
1956
Technical tie-up with Geigy AG, Switzerland and the production of diazinon, an insecticide, started.
Business expansion during the period of rapid economic growth